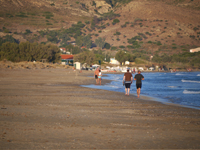 When thinking of Zakynthos your mind may immediately wander to the 'Shipwreck' with its turquoise waters, golden sands and the wreck of the ship that dominates the stunning beach, this is one place you should definitely visit! It is in fact even more beautiful than any postcard or photo that you've seen. Here you will find that each beach has its own individual personality, and whatever you are looking for from your holiday Zakynthos is sure to meet your needs.
In the North of the island it is mountainous and rocky with steep cliffs, along the coast there are coves and rocky shores which you can dive from. The sea here is turquoise, deep and much colder than in the southern regions and the beaches are often pebbly. To the South you will find golden sandy beaches and the blue sea is usually shallow and warm. It is here where the beaches are protected by the National Marine Park of Zakynthos due to there ecological importance as every summer the loggerhead turtle Caretta Caretta come to lay their eggs. In order to protect the turtles the Park has set some restrictions and as a result of this many beaches along the Gulf of Laganas have retained their natural beauty. There are also many other places that have managed to retain their natural beauty and uninhabited islands with amazing beaches.
If you are able to rent a boat or take one of the many boat trips available on the island you will be able to visit some of these amazing beaches, explore caves, coves and see some stunning natural formations. If it so happens that it is windy and you are unsure as to which beach to visit you will find it relatively easy to work out where to go as when it is windy on one side of the island the other side is usually calm. With a wide variety of beaches to suit many tastes all you have to do is find those that best suit you.